In English down below.
Nu har der jo været skrevet meget om tandbørstning og hunde, så her kommer der også lidt:
Min mor siger at hvis man ikke børster tænder kommer de til at se sådan her ud.
Det vil jeg ikke risikere, så jeg skynder mig at børste tænder. Min mor klapper ad mig.
Sådan mor. Er mine bisser ikke fine?
Det synes min mor, så jeg får et kødben som belønning.

Min mor har åbenbart ikke hørt, at når man gnaver kødben så bliver tænderne også fine.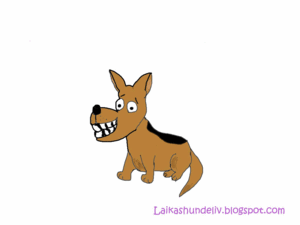 In English:


Tooth brushing.
My mom says, if you I don't brush my teeth they're going to look like this.
I will not risk t
hat
, so I hasten to brush my teeth. My mom applauding me.
See mom. My teeth are fine now.
My mom think my teeth are fine too, so I get a bone as a reward.

And my mom has obviously not heard, if you eat a bone once in a while, your teeth will be fine too.